Four years ago today, Alex and I promised to spend the rest of our lives together. What an amazing journey it's been so far! If you'd like to see what our wedding was like, take a look at ==>
my old bio on theknot.com
. I totally thought they would have deleted it by now, but it's still there!
Alex and I don't really exchange gifts because ultimately it just becomes "stuff", but we do like to travel whenever we get the chance. So this year Alex surprised me by getting us a
weekend cruise to the Bahamas
!!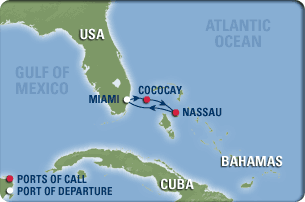 It will be the FIRST TIME since BEFORE we were married that we'll be taking a vacation JUST FOR US! We've traveled a lot together, but our trips have always been combined with work, conferences, or family celebrations. Even our honeymoon was part of an international conference for Alex! Can you believe that we've never had a vacation ALONE as a MARRIED COUPLE?! Seems pretty pathetic when you think about it like that!!
This will be our second cruise on
Royal Caribbean
and I think it's because Alex loved the Mojitos so much the first time!! On our first cruise to the Western Caribbean I was really excited about the ports of call and excursions, so I ended up being very disappointed when one of our ports of call was canceled and we had to stay on board. I wanted to DO STUFF and SEE STUFF, which is how I'm used to vacationing... always on the go! So this time, I'll be prepared to just relax, lay out, pig out (oink, oink), get a spa treatment and maybe fit in a yoga class and some climbing on the rock climbing wall. We won't be leaving for a few weeks- I have to wait until I get my first weekend off from weddings and photoshoots, but I'll be sure to share pictures and some tips on cruising when we get back! ;) I can't believe this will be our first REAL vacation in 5 years!!! It seriously feels like we've only been married for 2 years - where does the time go!??!
I LOVE YOU ALEX!!! Thank you for four wonderful years and many, many more!